Welcoming our students back to school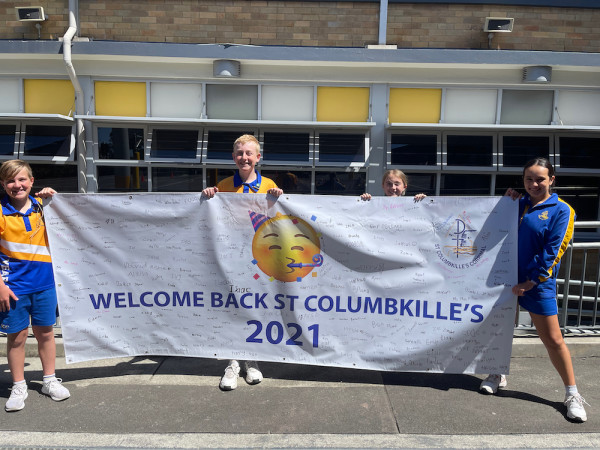 The staff at St Columbkille's have been thrilled to welcome back all our students to face-to-face learning this term!
Our teachers, students and parents were pleased to see the end of remote learning and Zoom lessons, and were so glad to be back on site to learn and have fun together again.
We first welcomed back our Kindergarten and Year 1 students; then a week later, our school community felt whole again when all of our other students and teachers from Year 2 to Year 6 also returned to school.
'Welcome Back' signs filled the playground with colour and warmth, with each student being invited to signal and celebrate their return back to school by writing their name on our personalised school banner.
Each student also received a special gift of a bouncy ball from the school as a symbol of our ability to be able to 'bounce back' from the challenges and difficulties that we faced throughout our 122 days apart.
We are exceptionally grateful and proud of each and everyone in our school community for their dedication, perseverance and commitment during remote learning, and are so glad to be reunited again as a whole school community.
"I feel excited that everyone is returning to school and I can be with them again," student, Maricar, said.
"I am so happy to come back to school. I could not complete work to my best ability while at home, but now that I am back I will put 110% effort into my schoolwork," fellow student, Marcus, said.
"I enjoyed returning to school because face-to-face learning is better than online learning. I am happy to see all of my friends again!" Jensen exclaimed.
Return to School Photo Gallery