Crazy socks for Socktober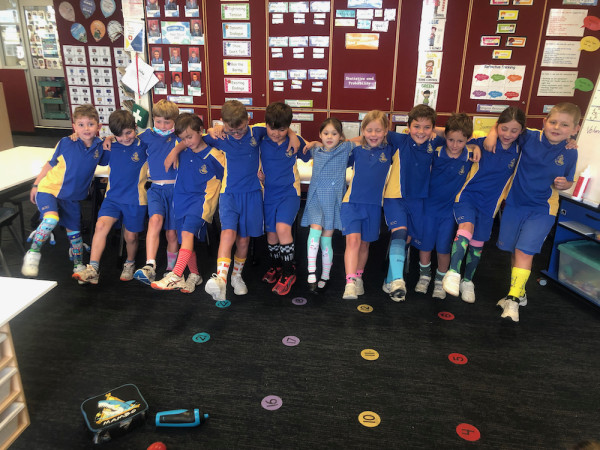 Our students have enjoyed all the bright colours and fun of wearing crazy socks for our Socktober fundraiser this year!
Socktober for Mission Month encourages us to engage with mission for children by using:
our heads to enquire about the reality of the world around us;
our hearts to feel empathy for those in situations of great need; and
our hands to take action for them in whatever way we are able.
This Socktober we are encouraging students to learn what life is like for children from Thailand, specifically those from slum areas in Bangkok, the bustling capital.
Our students have loved wearing their crazy socks, and brought in a gold coin donation to celebrate Socktober.
All funds raised will go towards the Kindergarten Centre run by the Good Shepherd Sisters in Bangkok, Thailand. The kindergarten offers two life‑changing services for both local women and their children: firstly, the Sisters provide a loving education in a safe place, catering for essential needs; and secondly, this allows the parents to freely work and earn a living for their families without fear for their children's safety.
We are so grateful for our generous school community and everyone's participation in this fun event.
Our Year 5 Mini Vinnies students were a great asset in promoting this and are to be commended on their dedication to social justice issues.
What the students said:
"It's important for us to support those in need so they can live a better life" — Scarlett

"I think it's good to raise money for other people who are less fortunate than us, so they can experience what we have" — Emily

"We can raise money for those less fortunate than us, so that they don't have to scavenge to survive. As people who are fortunate we should help the less fortunate" — Kayle

"I feel it's good because students can wear their crazy socks, have fun and raise money for the people who need it more than us" — Bailey